Innovative Handouts → Hang Around
Print collateral is everywhere, but a majority of it is boring and ineffective. You need to ensure that your leave-behinds are able to continue impressing your customers or community members long after you've left. We help create custom print collateral that isn't easily ignored, created by people who understand your industry and understand how to craft messages tailored to your audience.
Types of Print Collateral Include: Newsletters, Postcards, Door Hangers, Pamphlets, Brochures, and Flyers
Looking for some cool leave-behinds? Pens, water bottles, glasses, and other tangible items leave a lasting impression. We are able to design logos, icons, and illustrations to help brand your future handouts!
Our team specializes in eye-catching, affordable print collateral and outreach materials for local government, public works, and municipalities but can assist with any print collateral project. Contact us to learn how we can help!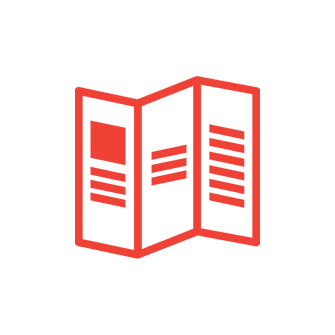 Consult. Design. Deliver
We have a proven process to reach the goals of your outreach.
1
Project Scoping
Determine project goals, deliverables, and budget.
2
Kickoff Call
Introduce the team and have a shared understanding on scope and project timeline.
3
Content Drafts
Copy is client-provided or drafted by our copywriters.
4
Creative Reveal
Our team presents the design for your review and feedback.
5
Wrap Up
Final, approved version is delivered on time and within budget.
6
Analyze Results
We follow up to make sure the goals of the outreach performed as expected.
Contact us about your project needs, and together we'll discuss how you can hit your goals.